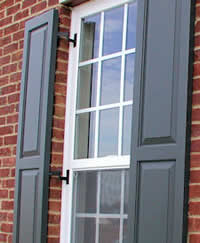 Hey Moms ... So, I'm sure you're keeping the inside of your house clean. lol ... Yea, mine isn't either! But look, how about those shutters outside? Are they in need of some serious help?
Just get new ones.

Larson Shutter Company has just what you're looking for. And if you order by August 15, 2008, you can get 15% off those custom size vinyl shutters! And no, they don't get you on the shipping because right now, they're offering FREE SHIPPING!

Are you thinking to yourself ... Man, I've heard that name before! :o) You have! You've seen them on ABC's hit show Extreme Makeover Home Edition! You can read more about it on their website.

So, check it out and enjoy those new shutters!