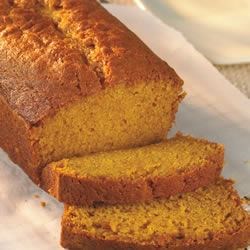 My uncles birthday is coming up and all of my aunts and uncles are going to be there. Each year at his party we receive gifts from different family members. Well, as I get older I try to participate in giving something to each aunt or uncle. I only have 5 of them! :o) lol .. Last year I gave away bath salts and other goodies. This year, I'm baking bread!
I've decided to make Pumpkin Gingerbread ...
INGREDIENTS
3 cups sugar

1 cup vegetable oil

4 eggs

2/3 cup water

1 (15 ounce) can pumpkin puree

2 teaspoons ground ginger

1 teaspoon ground allspice

1 teaspoon ground cinnamon

1 teaspoon ground cloves

3 1/2 cups all-purpose flour

2 teaspoons baking soda

1 1/2 teaspoons salt

1/2 teaspoon baking powder
DIRECTIONS
Preheat oven to 350 degrees F (175 degrees C). Lightly grease two 9x5 inch loaf pans.

In a large mixing, combine sugar, oil and eggs; beat until smooth. Add water and beat until well blended. Stir in pumpkin, ginger, allspice and cinnamon.

In medium bowl, combine flour, soda, salt, and baking powder. Add dry ingredients to pumpkin mixture and blend just until all ingredients are mixed. Divide batter between prepared pans.

Bake in preheated oven until toothpick comes out clean, about 1 hour.
I found this delightful recipe on
AllRecipes.com
! I checked out the reviews and I've decided to just leave the recipe alone and use it as is. The only thing I may be doing differently is use mini loaf pans. I am going to wrap them up real pretty and put them in a gift bag along with a Christmas ornament
.
Whatcha think?