Yesterday we took JD to see Santa Claus. Oh, how much fun was that! We got JD all hyped up so he would be excited. He knows who Santa Claus is. If he sees any kind of picture of him he yells "Anta Claw" - lol ... Yes that's my 20 month olds way of saying Santa Claus! It's cute.
I filled out the form, picked the package and it was now our turn. I put JD down so he can walk to Santa and he didn't move a muscle. lol Santa is saying "Come here big boy!" JD began to SCREAM! lol It was so sad, yet hilarious all at the same time. So, I picked JD up and we walked over to Santa and I tried to let JD go to him and sit on his lap. OMG, huge mistake. He wasn't having any part in that. Santa Claus politely said "Mama, have a seat on Santas lap!" lol, what? I look at him and he smiled. hehe
To make a long story short, JD ended up smiling and we have a beautiful picture of him. He calls suckers "Huty". I'm not sure why, but that's what he calls them. I was standing beside Stacy, the photographer, and I picked up a candy cane and he said "HUTY" and he started smiling instantly. haha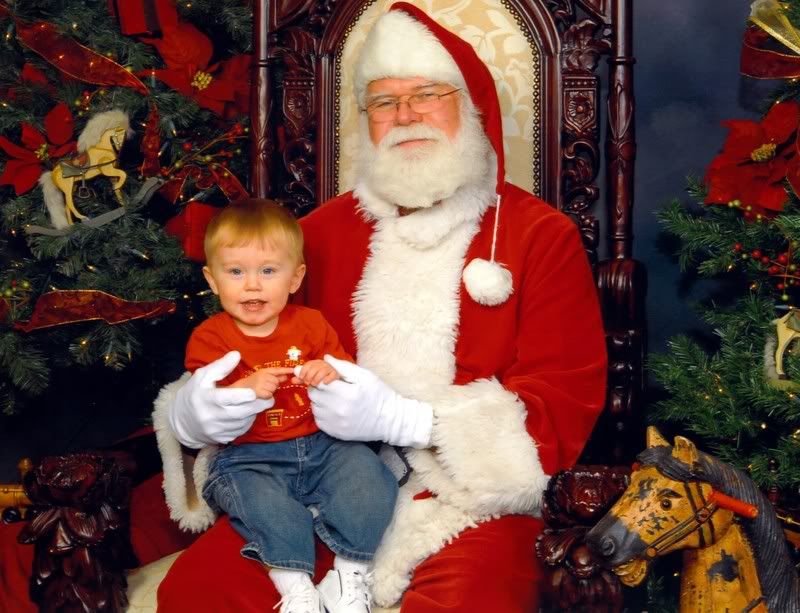 What's so funny, while we were waiting on the picture to print, JD was saying "Anta Claw, Anta Claw, Love You!" Now, why couldn't he do that before?
I only purchased one 8x10 and I uploaded it to CVS.com and I'm getting copies made and saving myself about $40.
How where your kids when they met Santa?